Sponsored by National Robotic League(NRL)
Academic Project
Instructor: Mike Christel, John Dessler
Time Span: 12 weeks, May 2019
Contribution: Research, Interaction Design, Prototyping
Team Members: Meng Wan, Jehan Sandu, Trisha Surve, Kangyan Li, Guanghao Yang
AN AR COMBAT ROBOTICS SIMULATION EXPERIENCE ON TABLET
BotLab is a capstone team project sponsored by National Robotics League(NRL). We have been tasked with developing a tablet-based experience with AR integration to involve more audience getting interested in combat robotics and NRL's training program. This experience will be targeted towards middle school aged 11-14 and will serve as an introduction to the battle bots.
Make people get interested in combat robotics
Our Client NRL hopes us to design and build an engaging application with AR integration in 12 weeks which could attract people to get into their program or become a partner as much as possible, which means this project has a large range of target audience.
HOW TO DEFINE OUR SUCCESS
Due to the production period scope, we were able to build a mid-fidelity demo based on our design in 7 weeks. Thanks to all team members making this happened, especially our solo programmer👨‍💻
Based on our research and ideation, we have 3 design pillars leading us to reach our final project goal. We were building a combat robotic simulation AR experience as a vertical slice of NRL program for promotion.
We came to Cornell Middle school to have our preliminary research. What we want to get from this research is we want to figure out which part is the most exciting moments for kids during the design and building process.
BALANCE "LEARN" AND "FUN"
As an experience including educational purpose, especially designed for kids, the interest curve and pace should match with their features really well. For our preferred future, the kids who play with Botlab would really enjoy the time they spend and also have takeaways in combat robot and manufacture field.
The whole experience could be divided into 6 phases: onboarding, showcase room, bot selection, customization, movement testing and battle,

which covers almost all kinds of activities inside of NRL program.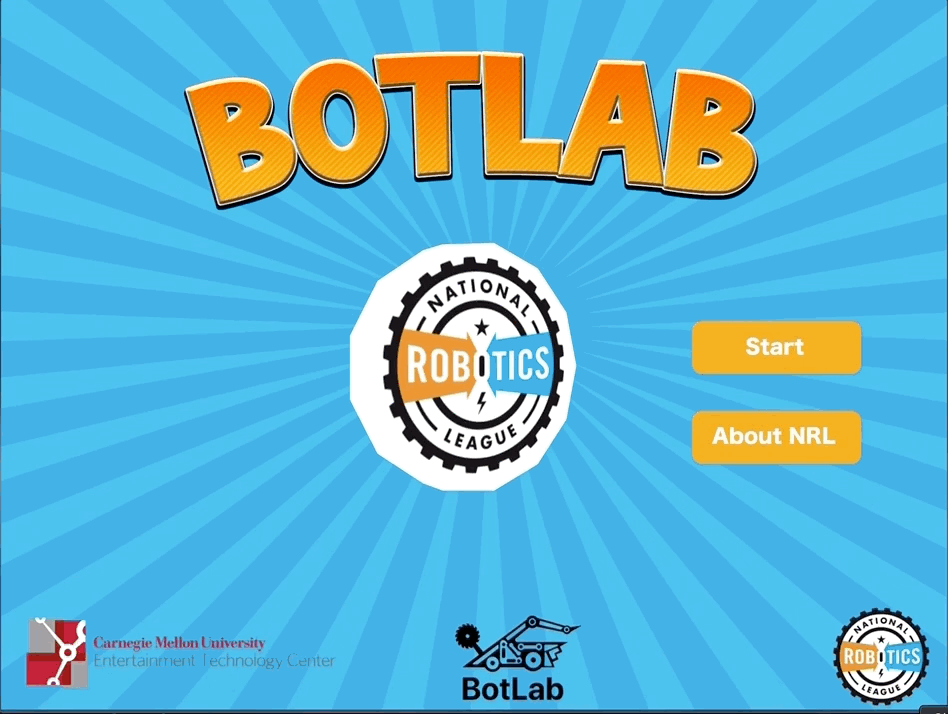 Using the brand color gold and blue of our client NRL, we made this title screen as the beginning of the whole experience, which also includes the NRL promotion info besides the entry of experience.
It's helpful to use conversational UI to as a medium to:
immerse users into the context

request their access of camera

guide user to set up AR world
I also made a sex-neutral robot standing aside, which make the interface more vivid.
Use conversation to present the context and tips.
Also ask for camera access.
A transition screen from 2D interface to AR interface.
Lead users to get into next phase experience.
At the first stage, users go into the showcase room of Botlab. We present 3 classic battle bots which are the required knowledge inside of NRL series courses as pre-build bots options.
The three prebuild bots are spinning by themselves in a showcase room and waiting user make a choice with tapping on it.
The enemy info is also present in this scree- real winner of 2017 NRL national competition battle.
When users move closer to the bots, all the buttons will disappear and the bot will open up and show the interior structure.
Users could use the reticle in the center to point on different components, the info of that part of components will pop up with name, function description and parameter info.
After tapping one bot, it will come closer to the user and spin automatically towards the user with components name tags floating around.
If user approaches the virtual bot, it will open up. The system will remind user that moving back and forth to trigger different states.
We detect the distance from bot to user and trigger the bot animation.
Similarly, if the user steps back, the bot will close up and all the 2D UI elements will come back on the screen. We use motion of UI elements as a metaphor of "exploration" mode.
Before the battle, users have opportunities to customize their bot within different kinds of components with up to 3 materials. To learn about components with different components and select the right material are also the gist of NRL program.
1. User select one component type from the menu on the right side.
2. User chooses one specific component with an effect of that component highlighted.
3. Clicking one component, the list of available materials will pop up.
The battle is also a significant phase inside of NRL competition. After customization, users could bring their bots to battle with the winner WildaBeast- an AI bot. To follow the interest curve, we made the first round of battle as an easy mode for users to win and the second round as a difficult one.
1. Before the battle, the user needs to pass the movement testing to get familiar with control and weapon.
2. The control system is in the vertical middle of the screen, which is the most comfortable for the target audience to hold.
3. After winning the first round, the user is leading to come back to showcase room preparing for the next round.
We came to Cornell Middle school to have our preliminary research. What we want to get from this research is we want to figure out which part is the most exciting part for our target audience.
In this time, we invited the expert in the bot-manufacture field and tried to have an in-depth background knowledge. Joe won NRL competition four times and he is good at design battle bots. We got lots of really valuable input from them about the bots-building process and interior placement of each components.
1. Design for user's environment
With 3 main using scenarios, we delivered a design solution like above. The using environments are noisy and distracted so
we didn't look forward to the whole experience as a purely "learning process"
. Following the features of environments, we decide to make the whole interest curve as a
fast-paced combination of movement and peace.
For the educative goal, we take advantage of reality space to make kids moving and we believe this design decision on

proximity to virtual objects

could make kids get more immersive into the experience and also create a "wow" moment.
2. Encourage User's Movement