Sponsored by National Robotic League(NRL)
Academic Project
Instructor: Mike Christel, John Dessler
Time Span: 12 weeks ( in progress)
Contribution: Product Design, UI/UX Design, Prototyping
Team Members: Jehan Sandu, Trisha Surve, Kangyan Li, Guanghao Yang
An AR combat robotics simulation on iPad
BotLab is an academic project team working with the National Robotics League, a program in which high school students design and build remote-controlled combat bots. We have been tasked with developing a tablet-based experience with AR integration to involve more audience getting interested in combat robotics. This experience will be targeted towards middle school aged youth and will serve as an introduction to the battle bots.
I was the UX/UI Designer in a team of five people in this 3-month project. It is a great opportunity for me to dedicate my UX design skills in this STEM education involved project with the National Robotics League for robots building community. In our team, I take care of user research, interaction design, user interface and prototyping.
in association with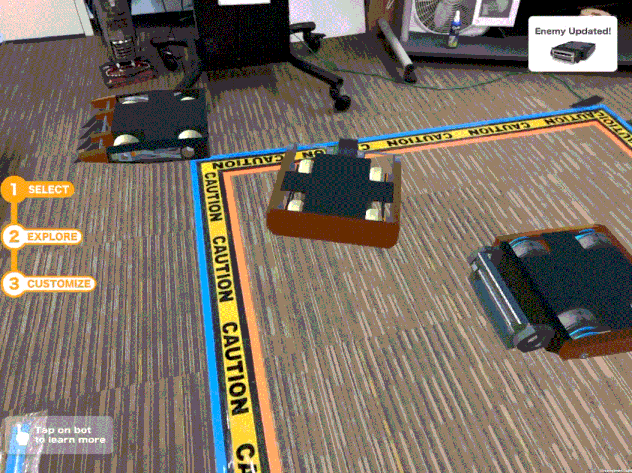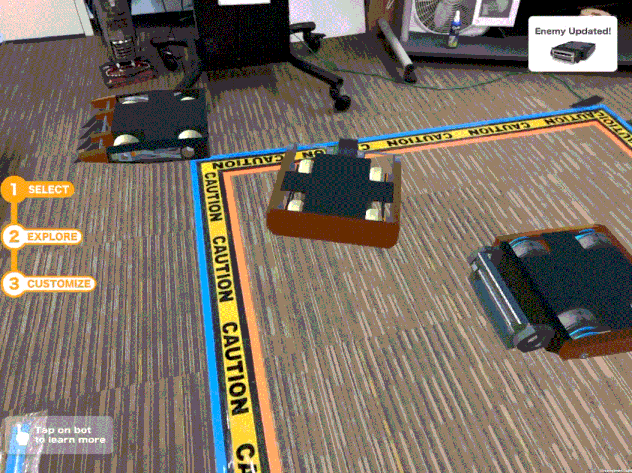 Build an App,
Make People Get Interested In NRL
Our Client NRL hope us to build an engaging application with AR integration in 12 weeks which could attract people to get into their program or become a partner as much as possible, which means this project has a large range of target audience.
We came to Cornell Middle school to have our preliminary research. What we want to get from this research is we want to figure out which part is the most exciting part during the design + building process.
In this time, we invited the expert in the bot-manufacture field and tried to have an in-depth background knowledge. Joe won NRL competition four times and he is good at design battle bots. We got lots of really valuable input from them about the bots-building process and interior placement of each components.
Board + Showcase + Battle
Transitions from 2D UI to AR World make
Target Audience Engaged